Before using the Bios Program, check that the motherboard part number on your laptop matches the image we provided. Because the same model laptop often uses different versions of the motherboard.
BIOS program is a software that performs basic and low-level functions on your laptop. This bios program is on the EEPROM chip and the chip is on the laptop motherboard. If the BIOS software on this EEPROM is damaged or corrupted your laptop will no longer be turned on or no display
This BIOS program is copied from the BIOS chip of a working laptop motherboard using the Super pro 500p model BIOS programmer.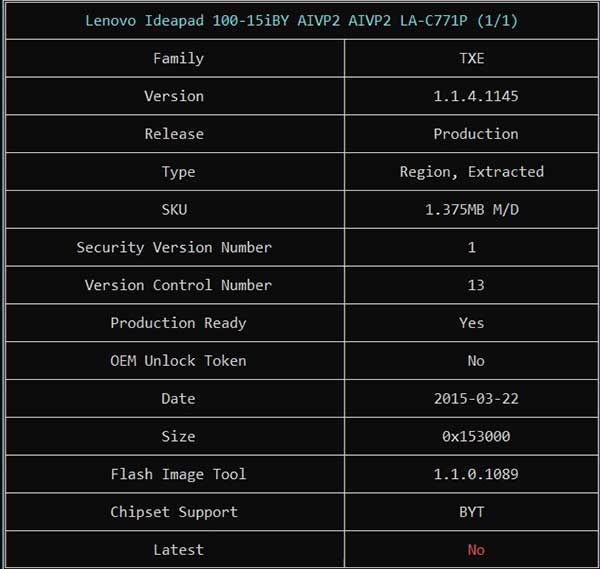 Corrupted bios program of your laptop motherboard and bios program downloaded from our website. You can compare the BIOS bin file information with ME Analyzer software. The data from uploaded bios bin file via ME Analyzer software is shown in the image on the top. From this link you can download  ME Analyzer.




If you don't know how to program or re-program or flash the bios chip then you can watch the video below.
Laptop motherboard schematic and Board view file is also very important, same as bios bin file.
Schematic Link         : Lenovo Ideapad 100-14IBY AIVP1-AIVP2 LA-C771P R02
Boardview Link         : Lenovo IdeaPad 100-15IBY LA-C771P
You can repair your dead laptop using our  LENOVO Ideapad 100-15iBY LA-C771P REV 1.0   BIOS Bin File. Used all kinds of tricks to repair your laptop motherboard but didn't fix it. Now you install Our bios with the bios programmer in EEPROM.



Download "Lenovo Ideapad 100-15iBY BIOS FILE"

Lenovo-100-15IBY.zip – Downloaded 2921 times – 2.74 MB
NOTE:
After programming the bios chip with this bios bin file, if your laptop motherboard is dead or no display, then this bios bin file is not compatible with your laptop motherboard. Sometimes the display does not come due to the mismatch of the ME Region of some laptop motherboards.
These bios files and information are provided so that laptop repair technicians can repair easily and quickly. Tech stall authorities are not responsible for any damage during repair.
stay in touch
Please leave your comments below or if you have any questions.